Home > Concursion Speedrun Challenge - Thursday on Twitch
Concursion Speedrun Challenge - Thursday on Twitch

Concursion developers Puuba are hosting a game developer test this Thursday as they speedrun through the game on Twitch. Danny Garfield and Puuba Dave are going head to head live to show who knows the game better. They are asking for ans to pick the winning team for a chance to win a prize. Check out full details after the break...
Concursion developers Puuba are organising the ULTIMATE game developer test this Thursday as they battle through the game in a Speedrun Race on Twitch. Danny 'Danger' Garfield will be going head to hood with his cohort Puuba 'Born Ready' Dave to reveal how well these developers really know their game as they use every trick in the book to get one up over each other and keep their pride intact in their battle to survive the game!

Who will fail spectacularly as these contentious candidates embark on a Speedrun Race for the entire duration of Concursion? Think you can do better? Danny and Dave will be giving away Concursion codes throughout the show as well as a whole host of other code goodies.

Choose a winning team and be in with a chance to win a prize! Which team are you on? You decide: https://www.youtube.com/watch?v=B1129lrLGtA

Concursion is a fusion of five classic gaming genres, all blending into one seamless experience. You start where most platformers finish -at the bad guy's castle- and run, jump, fly, fight and occasionally dance through the kingdom on your quest to unearth the truth behind these rifts and put a stop to Darklord Biganbad, once and for all.

Stay tuned and choose your team for your chance to win some awesome prizes and witness the spectacular failure of the other. Free games will be raffled in every Act. There may be tears. There will be winners.

Danny 'Danger' Garfield, Primary Architect of Concursion says: "We are about to find out who the number one contender is. Judgement day is approaching. The champ is here!"

Puuba 'Born Ready' Dave, Quality Assurance Engineer states: "The fans all want to know the truth. You want Puuba Dave as the underlying champion. There'll be hell in the cell. There is no escape. There is only Team Dave."

The battle commences at 5pm PDT on Thursday 10th July. Stay tuned folks.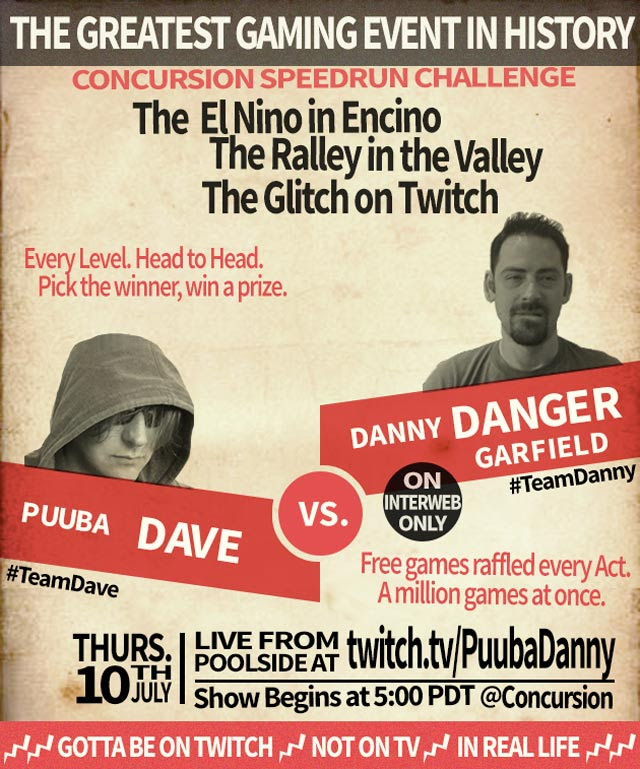 Don't forget to follow us on Facebook, Google Plus, and Twitter to receive up to the minute updates from us.